YugabyteDB For Financial Services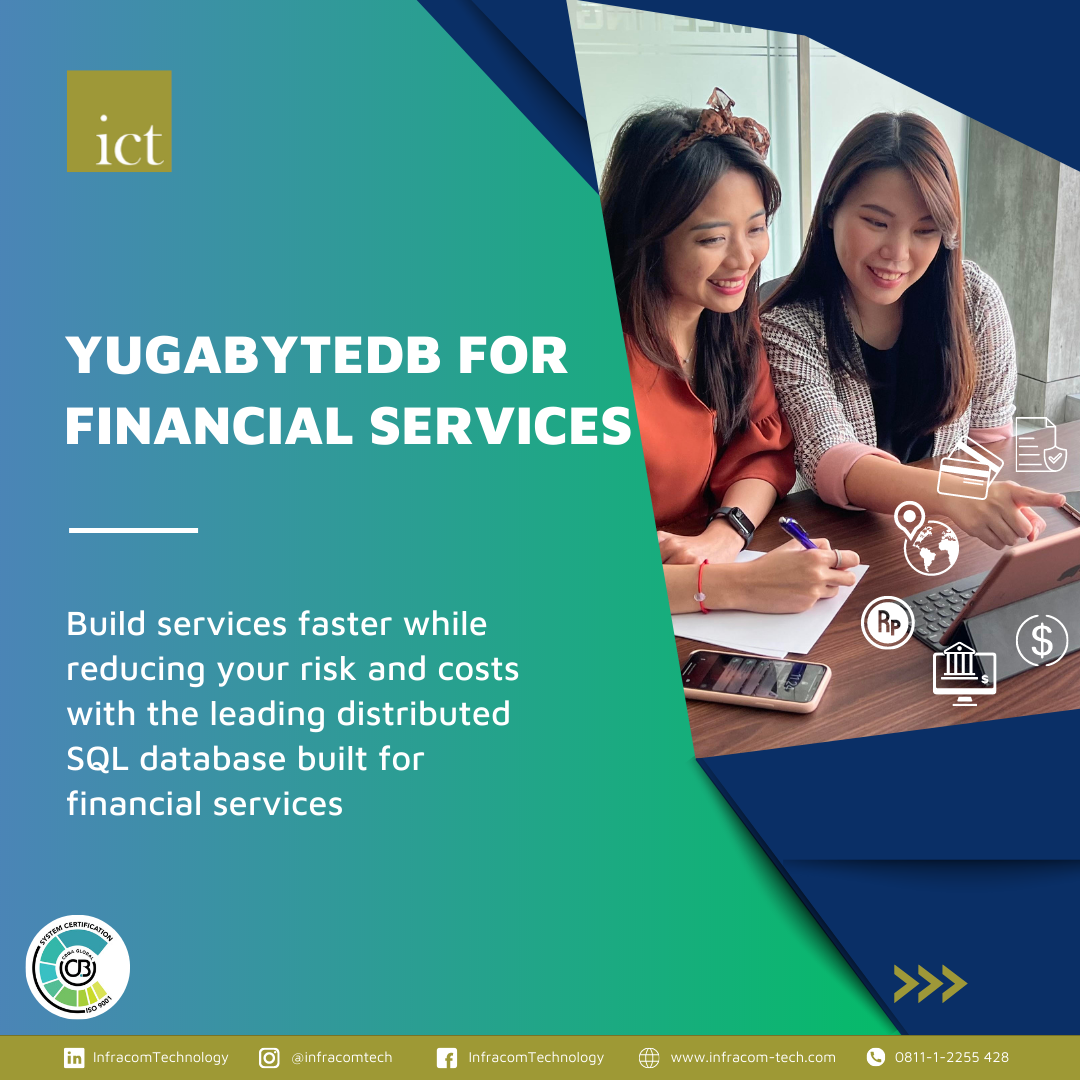 Deliver New Data-Centric Services Quickly Rising customer expectations and competition are driving banking, investment, insurance, and fintech companies to innovate faster. YugaybyteDB is a cloud native RDBMS that can handle your most demanding workloads, today and in the future, no matter where you are on your database modernization journey.
There's 3 Competitive Advantage of YugabyteDB:
Accelerate Productivity
Future-Proof Your Systems
Navigate Regulations
Why YugabyteDB ?
Simplify Distributed Financial Ledgers Scale your financial ledger to millions of transactions per day seamlessly with a single, geo-distributed system of record | Strong Consistency - Continuous Availability - Horizontal Scalability
Unify Customer Data across Services By adopting a unified data layer that is platform, cloud and API agnostic, eliminate legacy silos and enjoy a unified view of your customers | Dynamic Workload Optimization - Global Geo-Distriubtion
Accelerate Payments Processing Quickly and efficiently process financial transactions while ensuring that customer data is secure and always available | Strong Consistency - Continuous Availability - Horizontal Scalability
The Advanteges of Adopting YugabyteDB
Transactional Consistency
YugabyteDB supports distributed transactions with full ACID compliance, enabling features such as strongly consistent secondary indexes and multi-table/row ACID operations in both YSQL and YCQL APIs
2. High Availability
Downtime is not an option for financial services organizations. With native replication and automatic rebalancing, data remains available during node, zone, region, and data center failures and maintenance tasks
3. Enterprise Security
YugabyteDB is built from the ground up with data security in mind. Maintain a robust security posture with built-in controls such as LDAP authentication, RBAC, data encryption at rest and in transit (TLS)
YugabyteDB is purpose-built for financial services, providing unparalleled security and compliance features. It's the leading distributed SQL database that's trusted by financial institutions around the world.
Explore the YugabyteDB. For more information, email us at marketing.communication@infracom-tech.com
Written By : Marketing Communication ICT | Published : 18/April/2023
share